The 19th hole at Big Sky
September 20, 2011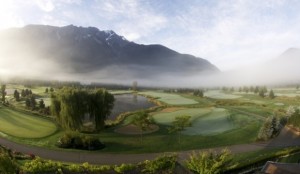 Looking to elevate your game to new heights? Step it up with a "Heli-Golf" adventure, courtesy of Pemberton's Blackcomb Aviation and Big Sky Golf and Country Club.
Your day of play will go something like this: following a quick shuttle from your home base in Whistler Village, hop in one of Blackcomb Aviation's helicopter "carts" for a whirlybird ride to the operator's exclusive mile-high 19th hole at the top of Mt. Currie in Pemberton. At the peak of this adventure, savour the view and swing your clubs for a warm up to remember, sure to give the term "longest drive" a whole new meaning.
Post-swing, jump back into your "heli-cart" for a scenic descent to the base of Mt. Currie, and tee up for for 18 holes of manicured bent-grass fairways and lush greens at Big Sky Golf and Country Club (here, more traditional carts will provide your transport, tee-to-tee). Pause for refreshment on the patio at Fescues, then buckle in for one more flight back to the Whistler Municipal Heliport before a quick shuttle back to your digs in Whistler Village. In all, you'll spend a whole lotta time in the sky, complete with an adventure in the clouds.
Learn more at www.bigskygolf.com or www.blackcombaviation.com
Posted in Featured (Secondary), News