BC Golf Destinations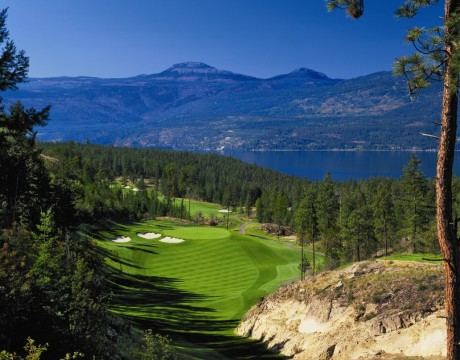 British Columbia has long enjoyed a reputation as one of the best places in North America to go golfing with its variety of exceptional golf experiences.
The province's popularity is due in large part to world-class courses designed by leading-edge golf architects. Arnold Palmer, Jack Nicklaus and Les Furber are among the many who have worked their magic here.
The other huge bonus to golfing in BC is the spectacular natural scenery. Many golf courses have mountain and ocean vistas, and settings range from coastal rainforests to an oasis in the middle of the desert.
To book BC and other courses around the world online, click here.
Here are the BC golf destinations.
The Kootenay Rockies, on the western side of the Rocky Mountains, is Canada's mountain golf paradise. The Kootenay Rockies region offers a superb selection of more than 25 championship golf courses, including many award winners as several of the courses in this mountain-covered region make perennial appearances on Canada's Top-100 list.
Kamloops is Canada's newest golf destination. The area has a diverse selection of golf courses, featuring everything from traditional tree-lined fairways, to a unique sage-covered rolling landscape with breathtaking views.
Kelowna, nestled in the Okanagan Valley, is BC's best known summer destination and has long attracted BC golfers. Kelowna golf courses wind through canyons, lie beside clear lakes and work their way through vineyards and orchards.
Vancouver, home to the 2010 Olympics, is Canada's cosmopolitan city with superb shopping, dining and accommodation. Vancouver is ringed by a wide variety of golf courses, all within a short drive from the city.
Vancouver Island boasts Canada's most temperate climate and 12 courses on the Vancouver Island Golf Trail.  Share the greens with eagles and grazing black-tailed deer, and maybe even spot a whale from the shore!
Whistler is long known as one of the best ski resorts in the world, but the quality of the golf is also exceptional. Four signature courses plus outstanding accommodation, shopping and dining make Whistler a "can't miss" golf trip.
For more information on golf in British Columbia, click here.