Sustainable Golf Development in Nicaragua
RIVAS, Nicaragua – Luxury golf tourism recently expanded into this breathtaking, uncharted territory when David McLay Kidd opened a spectacular new golf course here earlier this year.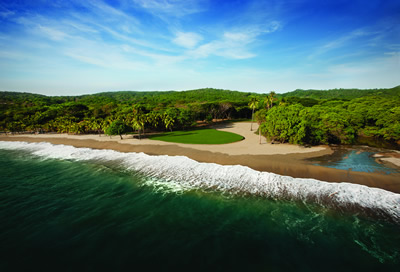 Guacalito is a part of a new luxury golf and beach resort and residential community that is about to become Central America's next red-hot destination, according to the Wall Street Journal and several other national publications.
Mukul, which means "secret" in a Mayan dialect, has 37 private villas sprinkled across a steep hillside overlooking the ocean. Each has a private pool and deck. Rooms are richly appointed with hand-made Nicaraguan furniture and art. The resort's spa offers seven distinct styles of massage, "One for every day of the week," said Federico Spada, the resort's manager.
Pellas, the resort's owner and developer, heads Grupo Pellas, a multi-national conglomerate with interests in land development, vehicle dealerships, citrus, sugar mills, ethanol and the highly regarded Flora de Caña rum distillery. Pellas built BAC-Credomatic, Nicaragua's largest bank, before selling it to GE Capital in one of the largest deals ever in Central America.
In the past decade, Nicaragua's once hard-line Marxist Sandinista government significantly loosened business restrictions. Pellas grabbed the chance to take the lead in pushing Nicaragua, the second-poorest nation in the Western Hemisphere, to build a sustainable tourism economy, and he's doing it from the ground up. And there are signs it is working, as extreme poverty, which once included 11.2 percent has dropped to 5.5 percent in the past five years.
"They say I am crazy making huge bets like this, that the country isn't ready, that I'm jumping the gun. But I think it's the right time," Pellas, a Stanford business graduate, said in an interview.
Rather than hiring a golf-resort management company, Pellas recruited a team of veterans of the Mexican hospitality and golf industry to train a Nicaraguan workforce. People from the surrounding municipality of Tola, many subsistence farmers and fishermen, others who never had a job, now make up 70 percent of Mukul's staff.
Pellas established an academy, "Escuelita Mukul," to train workers on the intricacies of hospitality: to teach employees sanitary food handling, how to wait tables, tend bar, clean guest villas and caddie for golfers. Many workers who built the resort's roads and villas, transplanted trees and shaped the golf course had never operated mechanized equipment.
Last year, Mukul's Office of Corporate Social Responsibility (each of Grupo Pellas' business units has one) distributed ceramic water filter/purifiers to 550 families in five nearby villages, said program manager Jon Thompson. Another 550 filters will be distributed this year. Since the program started, "We've seen a drastic reduction in diarrhea and kidney infections," Thompson said.
Pellas' company has made small loans of between $1,000 and $5,000 to local small businesses. Recipients have included roadside food and craft stalls, small restaurants, hostels and B&Bs. Businesses that significantly improve standards can be forgiven their loans. "We want this place to be an authentic destination for people who want to visit an unexplored destination, and we want to do it in a sustainable way that benefits Nicaragua through what I call 'inclusive capitalism,' " Pellas said.
His push for sustainability led Pellas to Kidd, son of a Scottish golf superintendent, who walked Guacalito for months before clearing what Pellas calls "arbusto," the Spanish word for bushy, low-lying vegetation that obscured the forest's giant Guanacaste, Madroño, Tamarindo and Genizaro trees.
Faced with Pellas' "no cut" dictum, Kidd transplanted 1,500 trees from fairways to the course's turfed margins – an arboreal version of Moses' parting of the Red Sea. Mukul set a world record for the largest tree ever moved, a 1-million-pound Guanacaste tree dragged and pushed by giant bulldozers to a spot inside Mukul's front gate.
The towering trees define holes and add challenges and visual drama. Guacalito's Penn State-trained agronomist and superintendent Chip Caswell agrees, but goes further. Tree limbs high above the 18th tee, for example, were left untouched to allow a band of howler monkeys living on the hillside above No. 17 to make the aerial commute across 18 to the rest of their territory.
Cutting the limbs would have reduced the band's habitat by as much as 50 percent. "In two years here, I've seen those monkeys on the ground maybe five times – those upper limbs are that important," Caswell said.
That kind of attention to environmental detail helps Guacalito live up to Pellas' vision of sustainability. It also makes a course that you could play every day for a week and never tire of it. That being said, whether or not Guacalito's massive trees, arroyos and ball-gobbling jungle make a monkey out of you – well, that's another story.
For more information, click here.
Dan Vukelich is a freelance writer in Albuquerque, N.M., who edits NewMexicoGolfNews.com. He also writes about golf and travel for the Chicago Tribune.